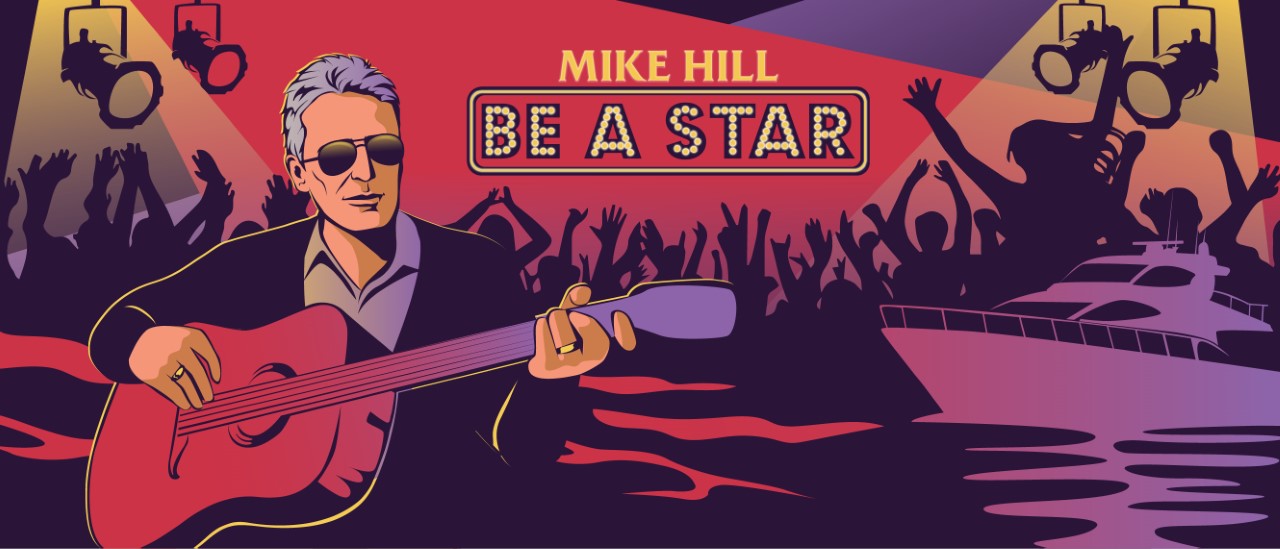 1 YEAR - BE A STAR - 11.11
Join us in celebrating The First Anniversary of
The Legendary Mike Hill`s "Be a Star"
How time flies and yes, even teleports when doing music.
 
Whaaat? Haven`t you heard the song yet? 

Shame on you. Or perhaps on us - for not marketing it better...
But we are still learning and trying to get a grip.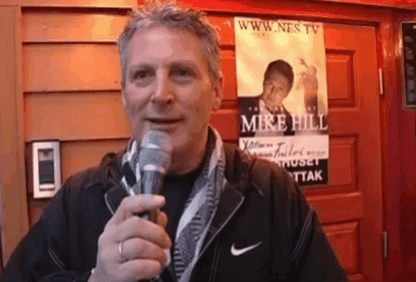 "Be a star" - Mike Hill Live in XO Bar, Stavanger
 
This is the happiest song we have ever produced!
If there ever was an uplifting feelgood song that could cheer you up ; this is it.
His father got tired of all the "noise" Mike made, fiddling about with the guitar.

So he told him off and sent him out to a shed in the garden where he could play.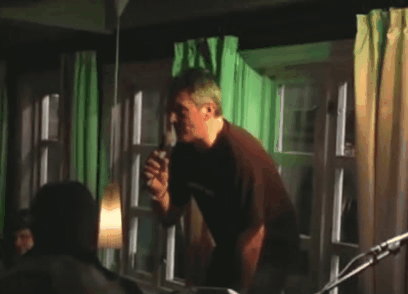 Isnt`t it strange how songs are made?
So Mike wrote this song to his father:
 
Gonna play my guitar
I don`t give a bam what you say
Say what you say

Gonna travel the world
gonna have my name in lights
Lights, my name in lights
 
That`s how the first verse goes and it couldn`t be written any better.
Coming up to the refrain:

I`M GONNA BE A STAR, BOY
GONNA BE A STAR ONE DAY
DAY - ONE DAY
It`s fun, it`s got intent and passion, but most importantly:

Is it catchier than Covid-19?
Credits
Jan Helge Nes - Keyboards, Programming, Mix & Master
Gordon Hauge - Bass & Guitars (slide & electric)
Jan Ove Johansen - Rhythm guitar & fills
Helga Hægeland - Backing vocals
Dave Young - Solo guitar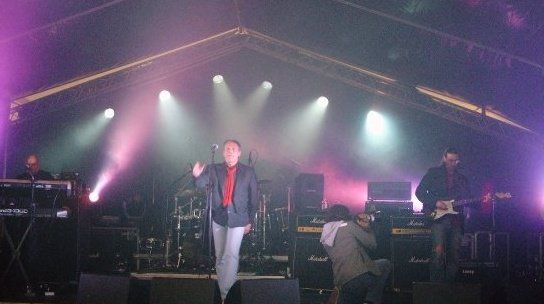 *** The Legendary Mike Hill - Classic Rock Festival - Sandnes, Norway ***
UNPLUGGED
11 years ago today. Never before caught on video.
This was an extremely rare event.

Mike`s First and Only
Unplugged Live Performance:
 

*** The Legendary Mike Hill - Unplugged Live, Sandnes Norway ***
MEGASHOW
All our artist`s releases on Spotify:
 
Ladies and gentlemen. He has been in the music industry for a decade and written songs since he was a little kid. These songs have never been released. Until now. Please give a warm, virtual welcome and applause - all the way from Watford in England: The Legendary Mike Hill !!! 
Who is Mike Hill?
Cutting many long stories short and into one : Mike is the prototype of a rockstar. He`s got it all and a whole lot more. He even started up as a bassplayer and his band was about to be signed by a major record label back in the 70`s. There was only one obstacle.
What obstacle?  
The record label also had another band in sight. And they would only choose one of them...

Who was the other band?
A band you might have heard of: Yes.
Click here to enter their website ; Yesworld
So why is the album called "Legendary cuts"?
Because many of these songs were written in the last century, when men were men and women were women. In fact, many of these songs were written in the last millennium. Now that speaks volumes. 
And what kind of music is this?
Good old fashioned countryrock with a modern twist - plus an extra emphasize on rock where you`ll get lots of guitars, mostly overdriven, shaken and stirred to the core.

If you like to listen to bands like The Eagles, Smokie, Creedence Clearwater Revival - we are almost certain you will love the music he has made. Very catchy, easy to listen to and pleasing for those who enjoy a good swing or two on the dancefloor.

Most of the tracks were recorded in our studio almost twenty years ago, and is now being remixed and mastered. Sadly, some of the mix-tracks have gone missing, so we`ve only got the original master. But we hope the passing years have preserved the energy well enough and that its been aging like good wine or even Whiskey. 

It`s almost shocking how time not only flies away, but has actually started teleporting at times.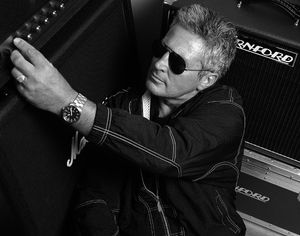 The musicians playing on these tracks are not all norwegish, but there is no doubt (oh no, not that famous pop group again?) that this creates a special atmosphere and sound for every track that comes on, especially if you put them on one after another. But we feel they fit together anyway. Like hands in a glove. Sunshine and rain. England and brexit. Trump and trouble. Mortgage and musicians. 
Lets get on with the songs instead. Listen to them and answer these questions:
Is there a special or recognizable sound?  What is the best part of this music?  

We believe people will listen to this and enjoy it. Its positive, exciting music that makes you want to get up and dance, drink or whatever you do when you loosen up and have fun. Even if it`s not perfect - it`s party time! And the powerful ballads gives you time to breathe and relax.
Yes, there are some minor bits & pieces left to fix and we are hoping to release the album just in time for the banana season.
 
All the credits in the legendary world goes to:
Mike Hill - Vocals, ac guitar
Robert Wilhelmsen - Guitars, programming, mix, master
Gordon Hauge - Bass, guitars
Claes Sletten - Drums
GT Ugland - Guitars
Leif Egil Helgeland - Guitars
Trygve Hanssen - Drums
Lars Otto Sannes - Guitars
Bent Jahnsen - Keyboards
Geir Gulliksen - Drums
Jan Ove Johansen - Guitars
Helga Hægeland - Backing vocals
Jan H Nes - Keyboards, b vocals, programming, mix, master

The band "Berlin" (from the left):

Mike Hill - Bass, vocals, b vocals
Terry Murray - Guitars 
Nigel Crouch - Keyboards
Jeff Mansell - Drums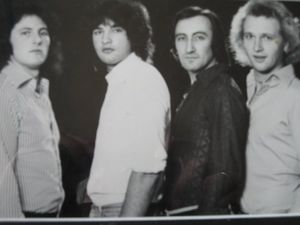 But let`s take it from the top. Where do we begin?
Somewhere along the rainbow, birds sing happy songs and never cared much about who sang the songs on the radio. Whether it was Yes or this group, they didn`t even bother to find out. There was even a day when Keith Moon entered the studio and all the buses in London were still moving along the same routes as before.


Riddles are fun, but what about telling the story?
There are some cats that are not out of the bag yet, so we would appreciate a little bit of patience (Guns n roses, yeah yeah yeah) before the door is opened. Thank you.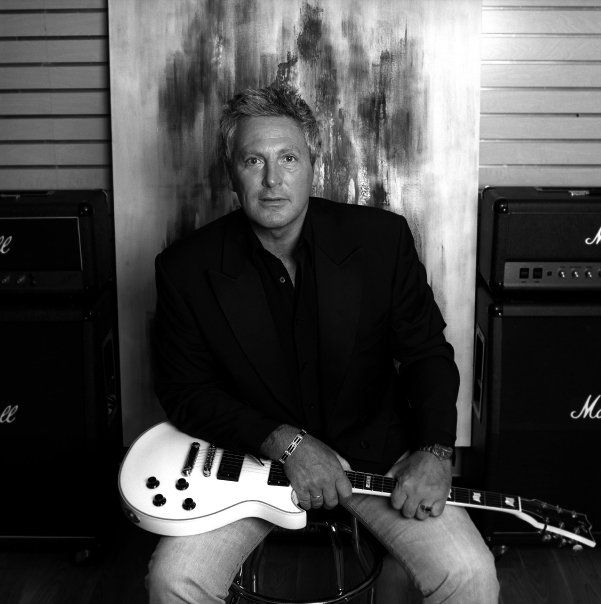 Sheets of Paper
Having worked with Mike for more than 25 years, it`s a big honor to present all these great songs that he wrote decades ago and still hadn`t done anything with.
They were just laying helplessly in the drawer, like sheets of paper. How on earth someone in the music industry hasn`t spotted him before, we might never know - it seems beyond miraculous. And when you first start thinking about it, someone could be knocking on your door, asking for the partymaker or even the money song. But you wouldn`t know how to handle that situation, because these songs are not published yet.

You understand? Yes, there is a reason for everything.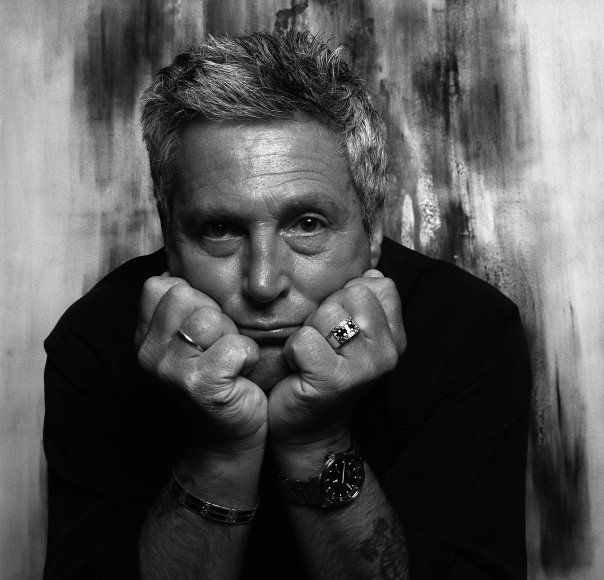 Music is all about feelings
There are those who says that music doesn`t affect them. We don`t believe this to be true. Unless they are deaf or got some sort of hearing disability, everyone is affected by music. How do I know? I don`t. But it feels right. It`s a "being human"-thing, I suppose. We are living creations. Let`s do this together.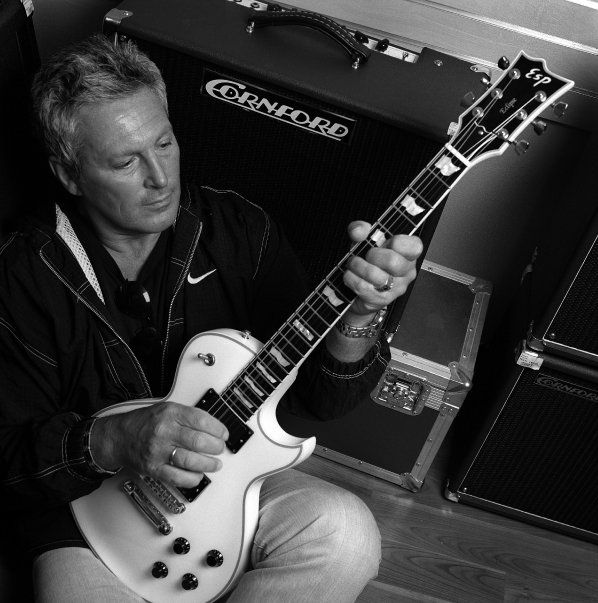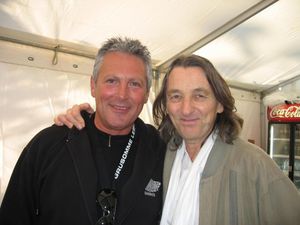 The Legendary Mike Hill is a familiar name in the live-music circuit, having been performing in famous venues regularly across the UK and Norway since the 70`s. Finally, he's decided that it's time to etch his work into stone with his first full-length album, Legendary Cuts, which already has six singles released on Spotify.
Mike Hill's music repertoire spans a variety of genres as colorful as his illustrious career, but his first love has always been rock'n'roll, which has formed the groundwork of Legendary Cuts. The album features old-fashioned country rock with a modern twist - think Nashville-style guitar that's overdriven, and then shaken and stirred for that extra fizz.

The Legendary Cuts Album
Most of the tracks were recorded 15-20 years ago and are now being remixed and mastered to keep them sounding slick while preserving the energy of a live performance from an era where rockstars lit up the stage with their fiery antics and catchy guitar riffs.
The result is a perfectly-aged time-capsule of a music collection that sounds great through modern devices while transporting you back to a time where live music was performed with passion by live musicians - no electronic samples here.
Mike Hill's biggest passion is entertaining people
His love for uplifting his audience shines through his unpretentious songs that he wrote as a reflection of his situation at the time - an emotional snapshot of an artist born to perform. Legendary Cuts is a roll-call of positive, exciting music that'll energize you to get up, pour yourself a drink, and dance away in your living room.
The album, while energetic, isn't an unstoppable freight-train of musical momentum. Mike Hill always keeps his audience in mind and has intentionally inserted powerful ballads in between lively songs to give his listeners time to breath and relax before the next round of edgy guitar riffs.
Currently, The Legendary Mike Hill has seven singles available for streaming on Spotify. 
So - which city is known for its seven mountains?  Any reasonable topliner should know this. :)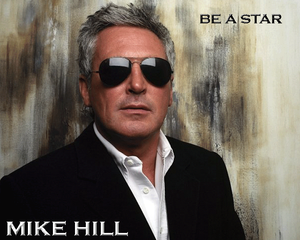 "Be a Star" has everything you'd want from a country song that'll get you jigging and jiving along at home. The uplifting tune will take you right back to the 1950`s Nashville country, with plucky guitar, train-track drums, whimsical lyrics, and a feel-good vibe that'll keep you feeling great long after the song has ended.

Our reviewer (Zach Israel) writes : 
"I absolutely love this song! It's a simple yet enjoyable feel-good song that I start many days with. True, it's a little old school and some would say gimmicky, but I think that's part of the charm. Regardless, I have this one on repeat to get my mornings up and running.
The guitar solo is a nice touch too, featuring some classic plucked guitar. Music as a whole is quite playful and engaging."

Click here to listen to "Be a star" on Spotify 

Click here to listen to "Left my heart in the City" on Spotify

The Legendary Mike Hill on Facebook